If you freedive or are learning, you already know that equalizing your ears can be one of the most frustrating issues for a freediver.

Do you struggle to equalize your ears in the 15-40 ft. range while freediving?
Have you noticed that as soon as you turn your head towards the surface, your ears clear more easily?
Do your ears clear fine scuba diving, but you have difficulties clearing your ears while freediving?
Let me show you why this is happening.
Pinch you nose with one hand, put your other hand on your stomach, now equalize 5 times in a row fast. If you feel your stomach clenching every time you equalize this means you are doing the Valsalva method of equalization, which is severely limiting for freedivers. Using the Valsalva method is the reason you are having the above problems. Freedivers need to use the Frenzel method of equalization.
Why learn how to Frenzel?
Equalize instantly and effortlessly.
Tired of your inability to equalize limiting how deep you can dive? Frenzel will allow you to equalize to 100ft!
Frenzel allows you to dive down perfectly straight without stopping or struggling to equalize.
Frenzel uses less energy than Valsalva
Watch the first video below to see how easily a freediver using Frenzel can freedive to 80ft.
I've been a full-time freediving instructor since 2009. I've had too many students tell me they had taken other freediving classes, spent hundreds of dollars (plus 2-3 days of their time) and were still unable to get past 15-30 feet in their course.

This is ultimately because they didn't learn how to Frenzel.
James Nestor freediving author of The Deep, came to me in this exact way (took a course, and was unable to get past 20 feet). After spending only 30 minutes with him just on Skype, I taught him Frenzel and off he went to become the freediving author he is today-he wrote about the experience in his book.
Why choose me to teach you how to Frenzel?
Since 2011, I've taught over 500 people how to successfully Frenzel via my one on one Skype sessions. I've been a featured speaker five years in a row at the Blue Wild Expo the largest freediving and Spearfishing expo in the United States. In 2018, I was asked to give a presentation on the difference between Valsalva and Frenzel and why freedivers should be using Frenzel. Check out the first testimonial of my student who read countless articles, watched every video he could find, even took a freediving class elsewhere, and never could learn how to Frenzel, until he enrolled in this course.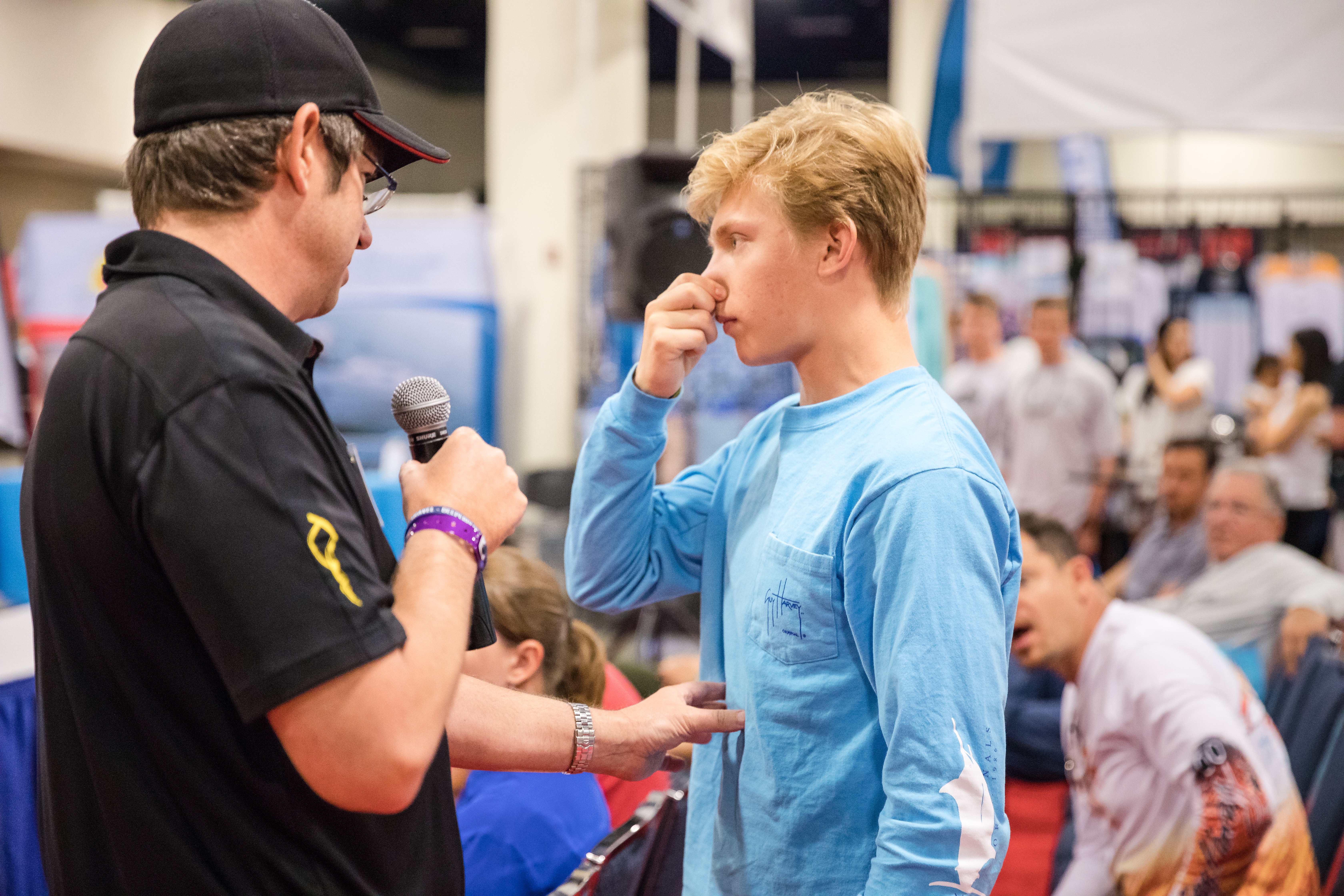 I'm known throughout the freediving industry as the "equalizing guy." Freediving instructors recommend me to their students that have problems equalizing their ears.
I've taken my proven step by step method that I have used to teach over 500 people how to Frenzel, and transferred it into this online course, Road Map to Frenzel.

This course contains the following:
13 videos (lessons) with over two hours of content on my proven step by step method to learn how to Frenzel.
You can ask questions on each lesson, and I will personally answer every one.
An in-depth video discussing the risks associated with Freediving and proven simple procedures to increase your safety.
4 Bonus videos, the most common ear injury and how to avoid it, tips on how to prevent ear infections, general equalizing tips not related to Frenzel, and how to stop your mask from fogging,
Once you get into my class any future updates I make to it, you'll get them completely for free - just for purchasing.
As time goes on my course will become more costly to get into, but you'll benefit for life by getting in now - even if the cost goes up - it won't go up for you.
If you go through the program and I don't teach you to Frenzel within 30 days, I will offer you a full refund.