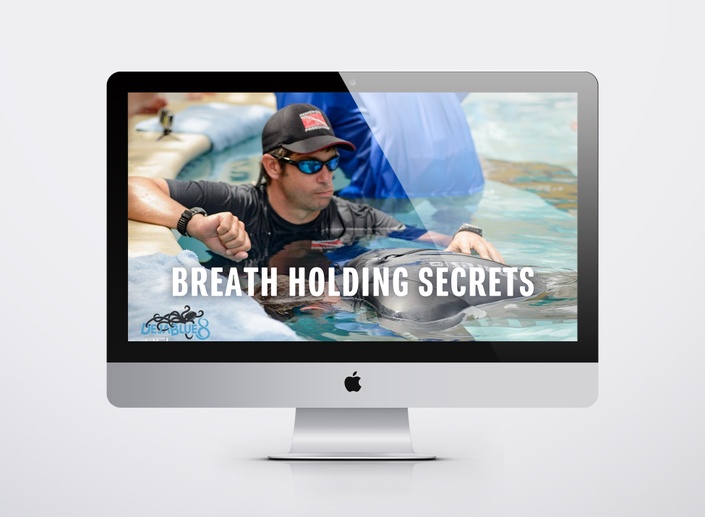 Breath holding secrets from a USA Freediving record holder
What will you do with your extra time underwater?

In 2005, I started my career as a scuba instructor in the Florida Keys. I was fascinated when I saw Freedivers come out on our dive boat. They had big long fins, camouflage wetsuits, and tiny masks. I absolutely could not believe how long they could hold their breath and was shocked to see them go down and play with the scuba divers.
After seeing this, I was determined to learn how to hold my breath. This consisted of me holding my breath as long as I could. I tried again and again, I got minimal results, and I just felt terrible the whole time. I assumed Freedivers must have some sort of mind over matter technique that allowed them to ignore the pain and discomfort.
Things changed once I took my first freediving course in 2008. I couldn't believe that two days into the course, I held my breath for 5 minutes! Most of the class held their breath for 4-5 minutes. My 5-minute breath hold felt more comfortable than my 2-minute breath holds from earlier.
Years ago I was at a scuba diving trade show. I had eight scuba divers with zero Freediving experience. I challenged them to the longest breath hold, 3, 2, 1 go! The longest one was 48 seconds. I spent 15 minutes with the group, going over the breathing techniques you will learn in this program. I had six out eight people do a 3-minute breath hold with only 15 minutes of training! It's all technique.
I've been a full-time freediving instructor since 2009. I've had over a thousand students in my career. Everyone says there is no way I"ll be able to hold my breath for 2-3 minutes. I assure them they can, they don't believe me, and then when they apply these simple techniques, they can.

I've trained under five world record Freedivers during my career. I've taken more freediving classes than any sane person would. I've learned from countless instructors, and there is one thing they would all agree on 100%.

It's not what you do during the breath-hold it is what you are doing before your breath hold. That's the secret.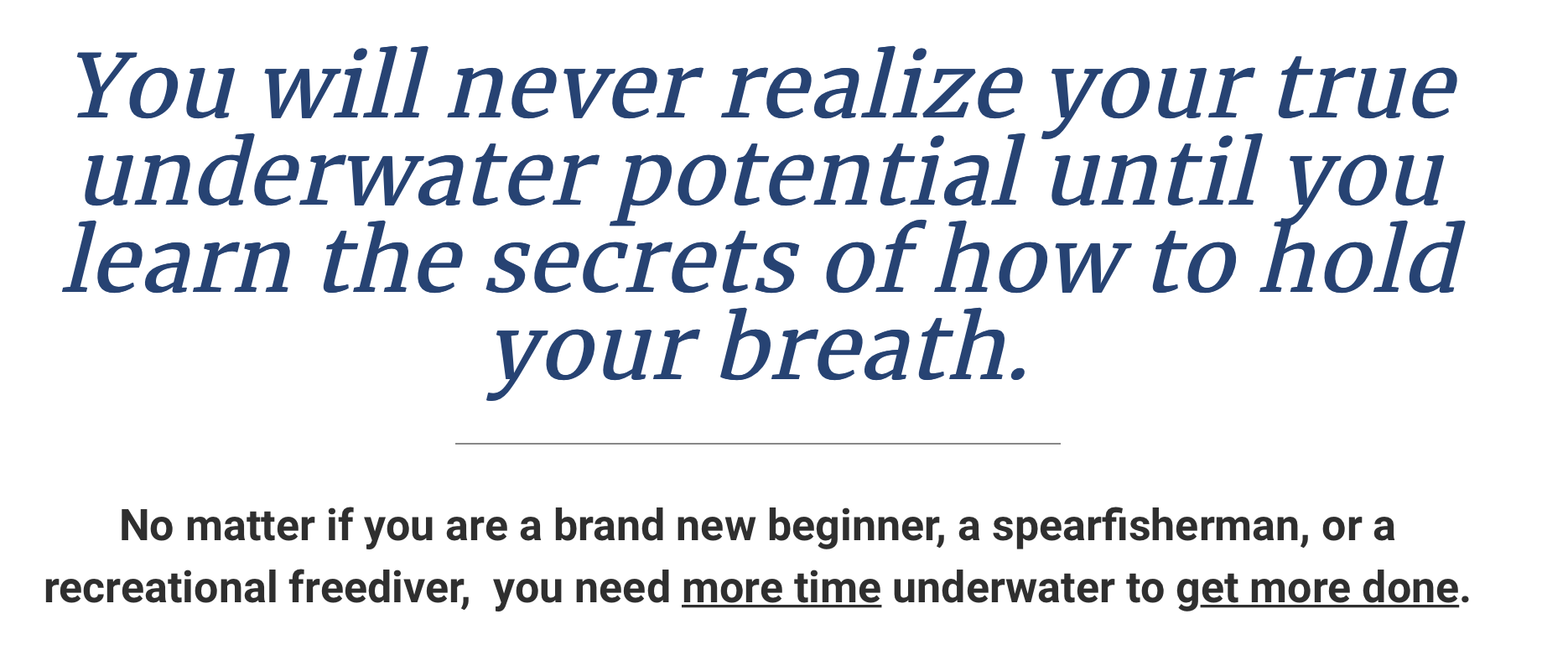 Ever noticed that anyone who goes and takes a freediving course comes back and excitedly says, "OMG I can't believe how long I held my breath!" Guess what they learned in their class? They learned what to do before the breath hold, and that is what you are going to learn in this course.
How does all of this work? Part of it is by activating your most primal reflex - the mammalian dive reflex. All human being have it, and it's genetically encoded into every single human on this planet.

Dolphins seals and whales are mammals. We as a human being are mammals, and all of us have the mammalian dive reflex. I know how to reach into the body and turn the knobs, flip the switches, and adjust the dials to turn on your mammalian dive reflex. This makes your body work with you instead of fighting against you

How does the course work?
Step #1 - learn to take a 20-30% bigger breath. Want to hold your breath longer? Take the biggest breath!
Step #2 - all freedivers know the secret is how you are breathing before you hold your breath. You will learn how to properly breathe to increase your breath hold ability.
Step #3 - Training progression. You will learn how to hold your breath longer the first day and how to set up a training routine to increase your ability.
Almost anyone can hold their breath for 2-3 minutes, it just takes proper technique and a bit of training.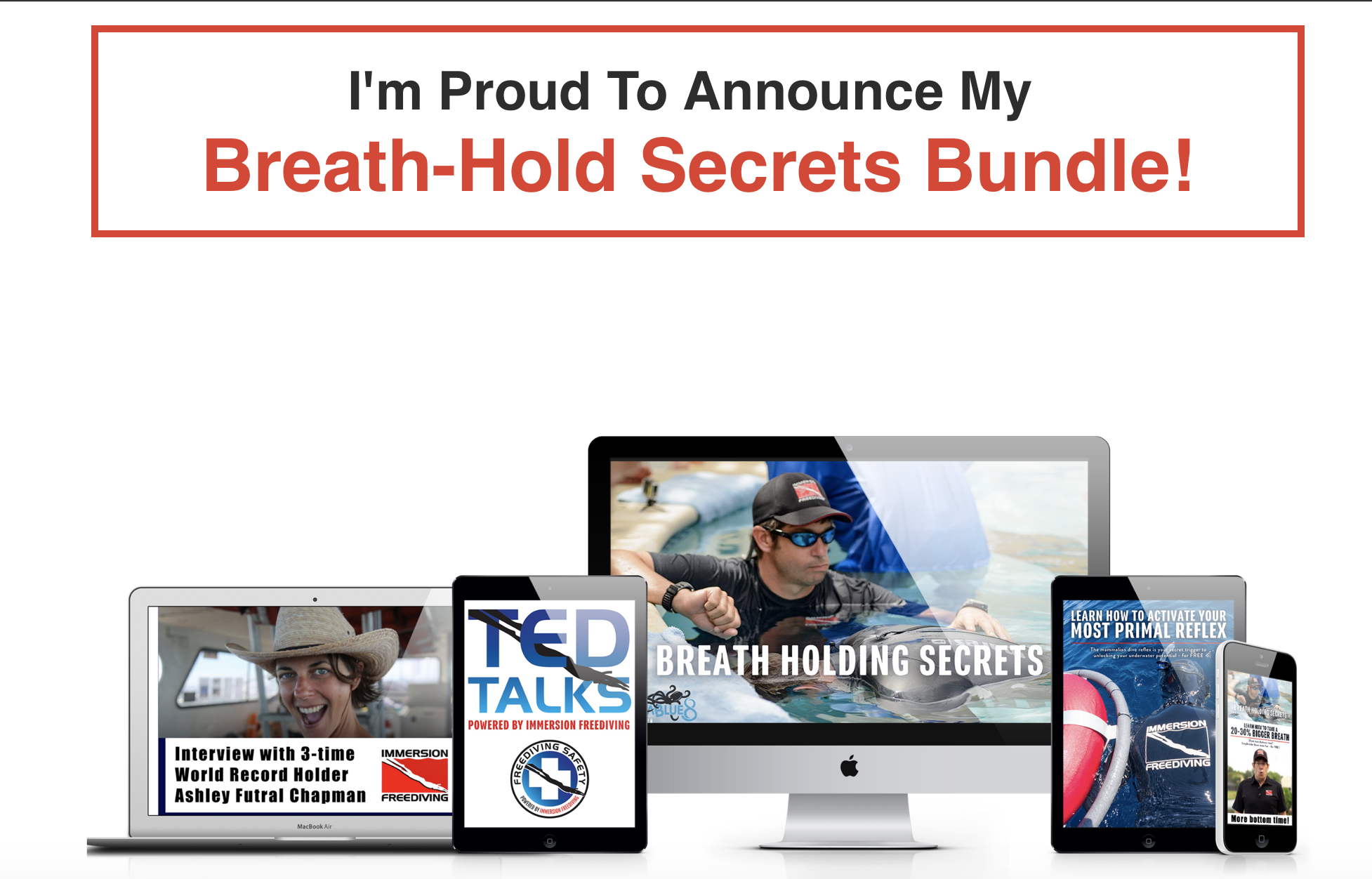 Check out the additional bonus content in addition to Breath Holding Secrets you will be able to access..
Breath Hold Secrets
Course on how to take a 20-30% bigger breath
Freediving Safety course (Could save your life or your buddy's life)
Ted Talks Greatest Hits - one hour of the most educational moments from my show.
Course on how to access your mammalian dive refelx
Interview with 3 time world record holder Ashley Chapman.
You can have access to all of these course for only $39. Scroll down to the red enroll button at the bottom of this page.
Good luck, I look forward to working with you.

Ted Harty - your trusted online freediving resource.
Your Instructor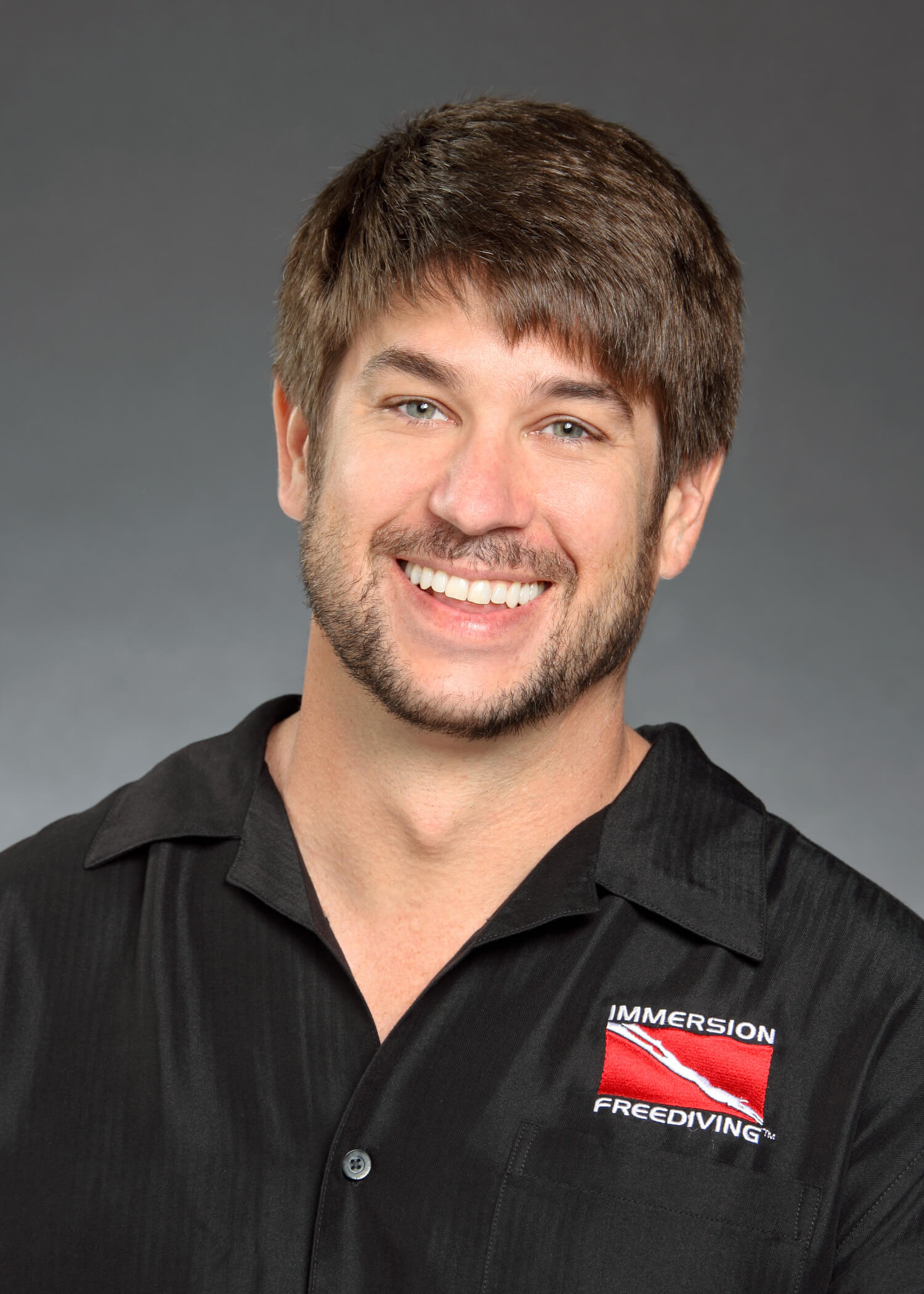 I started my underwater adventures (career) in 2005, as a Scuba Instructor in the Florida Keys. During that time I became a PADI Staff Instructor, and taught for NAUI and the SSI as well. I took my very first professional freediving course with Performance Freediving International (PFI) in 2008, taught by Kirk Krack. I was absolutely blown away by the class and by freediving, I quickly became obsessed...like I do with many things!


In 2009, I became a freediving instructor for PFI and I've been teaching freediving full time ever since. I went to my first freediving competition in 2009, as an out of shape and overweight ex-scuba instructor, and progressed from an 80 ft. to 177 ft. dive in just 3 weeks! After that experience, I wondered what I could do if I got in shape and took training more seriously. I went on to break a USA Freediving record, have won 3 freediving competitions, was selected to be Captain of Men's USA Freediving team at the World Championships, am a PFI Instructor Trainer and my deepest freedive to date is 279 feet.


While I enjoy being a competitive freediver immensely, my true passion has always been teaching. Thus, for the past 5 years I've been focused on the instructional side of freediving by teaching my classes through my company Immersion Freediving. Deeper Blue reviewed my 4 day PFI Intermediate freediving course and said it was the most professional course in the dive industry they had seen in 33 years. See the full review here.


I've worked with Tim Kennedy (US Army Ranger, UFC fighter and star of History Channel show Hunting Hitler), Ben Greenfield (fitness guru and podcaster), and several elite military instructors. I've appeared on The Spear, Noob Spearo, Ben Greenfield's podcast; have written an article for every issue of Spearing Magazine since 2013, as well as am the official freediving course of Spearing Magazine. I've appeared in the books Deep Freediving, Renegade Science, What the Ocean Tells Us About Ourselves and One Breath. I have also been a featured speaker at the Blue Wild Expo, the largest freediving and spearfishing expo in the US 5 years running.
Frequently Asked Questions
When does the course start and finish?
The course starts now and never ends! It is a completely self-paced online course - you decide when you start and when you finish.
How long do I have access to the course?
The typical answer to this question is forever, but forever is a long time! 30 years from now we will probably be learning via VR and some sort of chip implanted in our brain. You will have access to this course for as long as it's reasonable for me to maintain this site which I plan on doing for a long, long time!
What if I am unhappy with the course?
We would never want you to be unhappy! If you are unsatisfied with your purchase, contact us in the first 30 days and we will give you a full refund.